Contemporary Concrete Design Basins and Terrazzo Design Basins Scandinavia

Discover Conspire's wide product range of extraordinary concrete design basins and terrazzo design basins. Available in raw to modern finishes to make your Conspire basin suitable for any bathroom or washroom. We offer more than 30 unique design basins in 8 amazing finishes to suit your individual style. [ Dusk Grey Concrete, Natural Concrete, Vintage Brown Concrete, Copper Green Concrete, Dark Grey Concrete, Light Grey Concrete, Black Terrazzo and White Terrazzo ]
Concrete Design Basins and Terrazzo Design Basins and Innovative Bathroom Furniture Scandinavia

ConSpire encapsulates modern design with functionally at it's heart. We make unique concrete design basins, terrazzo design basins and innovative bathroom furniture for individuals who appreciate quality and exceptional design combined. Let our dynamic range of concrete and terrazzo design basins and innovative bathroom furniture inspire a new vision for your bathroom.
Unique Innovative Bathroom Furniture Scandinavia

We explore and innovate to create new extraordinary bathroom design. Take our exclusive 'Teak Bio-composite' for example, an environmentally friendly material made from recycled teak dust that is indistinguishable from real wood. It's high- density, durability and water resistance make it the perfect choice for our product range.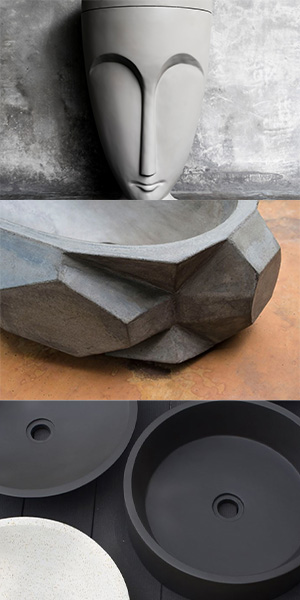 CRAFTSMANSHIP
Talented designers and artisans are the key to our consistent quality and innovation; it's their eye for detail that ensures each of our products has the personal touch.
Every concrete design sink, terrazzo design sink and bathroom furniture is lavished with attention and gloriously hand finished.
Our master sculptors take more than 20 hours to create a terrazzo or concrete design basin from natural stone before it's molded – afterwards each cast is vigorously sanded before receiving 4 anti- grease, anti-scratch and water resistant coatings, exclusively developed alongside industry leaders to give ConSpire unbeatable longevity.
More than 40 craftsman work in our production factory, who passionately manufacture your ConSpire products.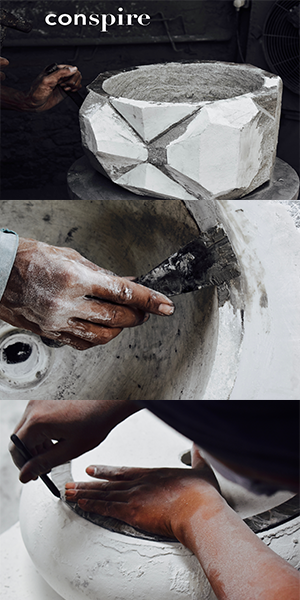 THE CONSPIRE TEAM
Our team is a multi-cultural mix of designers/craftsman, production managers, researchers and admin, each playing a vital role in making ConSpire the future-thinking brand it is. Hardworking, creative and versatile are words that come to mind when summarizing the diverse group of people who keep ConSpire's cogs turning!
Whether that means overseeing the production to ensure quality standards are consistently achieved, or spending all night packing containers on time to reach their destination, each of us at ConSpire share a common goal – to make sure our unique concrete design basins, terrazzo design basins and innovative bathroom furniture are ready for you to ship.
Our headquarters and factory are located in Yogyakarta, Java, Indonesia (Asia). We are open from monday untill friday from 08:30 till 17:00. We ship containers worldwide.
Don't hesitate to contact us anytime for further questions.